Alumni
Members of the International Acacia Fraternity are members for life. Our Alumni play a significant role in the progress and supervision of our chapter. From Cornerstones mentoring program, to the supervision and supplement of the chapter house, the college generation would be nowhere without them! In turn, several publications are sent to Alumni annually outlining the service and success of the Nebraska Chapter, as well as regular updates on our Facebook page.
Alumni are always welcome to visit the chapter house, attend chapter meetings, and involve themselves chapter events, including our annual Founders Day celebration. We encourage the presence of family members as well. Members who both live in the chapter house and out of the chapter house have the ability to interact and meet with alumni on a regular basis. This provides not only a fun, family oriented experience, but also an opportunity to ask questions, grow, and learn as a person.
If you are a member of our alumni and you are not receiving these updates, or would like to visit the house, please let us know! Feel free to contact the house president, Jon Anderson at anytime using his direct email address: jon_and13@hotmail.com. You can also contact our house parent, Sean Keenan at sckeenan6@huskers.unl.edu.
End of the semester dinner sponsored by the Alumni Board.
Cornerstones
Cornerstones is a membership development program unique to Acacia Fraternity. In Cornerstones, we pair you with one of our alumni-mentors for your next four years of college. This Alumnus is someone who either had the same major as you or is in the career path you are looking to take.
This four year program designed to help members excel in college. The first year is focused on Academics, time management, and getting acquainted to everything UNL has to offer. The second year is focused on leadership and getting involved with an organization on campus. The third year is focused on attaining an internship; this is where the alumni really help! Think about it, this is a professional in your career path who you have been working with for three years. Having this connection really opens up the doors. Finally, the fourth year is about being a mentor to younger members and getting everything lined up for your next step, graduate school, career, etc.
Alumni interested in participating in the Nebraska Cornerstones program should inquire directly with one of the following: the current venerable dean, the current house parent, or a current member of the alumni board. For contact information, please contact any house representative.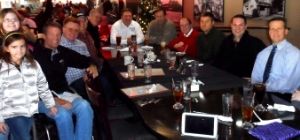 Alumni Holiday Dinner at Petrow's restaurant in Omaha.