Introduction
"Human Service" is the motto of Acacia Fraternity. Members of the Nebraska chapter continuously strive to have an impact in the affairs of our community and make a larger impact on the world around us.
Acacia Claus Toy Drive
Each year during the holiday season, Acacia chapters around the country collect new, unwrapped toys for children who might otherwise not receive presents. Dubbed Acacia Claus, this annual toy drive is designed to assist local organizations in our chapters' communities. Chapters are encouraged to put their own personal spin on the event; which often involves partnering with local retailers to solicit donations of toys or money from residents and customers.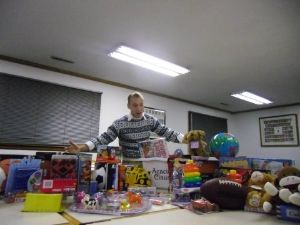 This worthwhile event has not only brightened the lives of countless families in need, it has also provided our brotherhood with an opportunity to show the communities in which we reside that Acacia's "Human Service" focus is more than just lip service. It is a passion that drives and motivates our brothers in every aspect of their lives.
Seven Days of Service
An Acacia tradition, Seven Days of Service is a week long attempt to improve the local community. Each day members of the fraternity take part in a different service project.